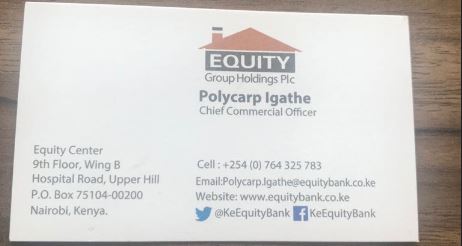 Former Nairobi Deputy Governor Polycarp Igathe has landed a new job at Equity bank.
Igathe who resigned from the City County management job is now the new Equity Bank's Chief Commercial Officer.
The former Deputy Governor resigned from the county job after five-month citing misunderstanding with the Nairobi governor Mike Sonko.
Equity Bank's management has not yet approved the appointment, however, Igathe's business card leaked first via WhatsApp.
It is not yet known when the ex-Deputy Governor will assume office as such senior roles in the banking sector have to be approved by Central Bank of Kenya(CBK).
Igathe who had served as the Managing Director of Vivo Energy prior to joining politics in May last year, is now set to join Equity Bank as the Chief Commercial Officer, alongside Christine Brown, the new company secretary.
The Bank management is already scrambling on how to manage the leaked information as sources say that he was due to be announced before the end of the month.
This comes at a time when the Nairobi Boss is searching for a new Deputy Governor to fill the gap left by Igathe.
Opposition MCAs have already mounted pressure on the governor giving him a one-week ultimatum to appoint a new Deputy Governor.