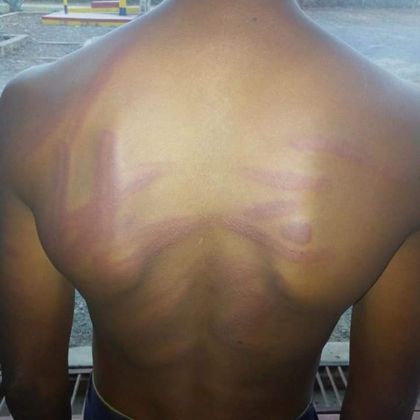 A standard seven school boy from Languni Primary School in Yatta, machakos County is nursing serious injuries at Matuu level four hospital, Ndalani after he was purportedly beaten by the school head teacher.
The 15-year-old school boy said the teacher beat him after he rang the bell at the wrong time.
Speaking outside Matuu police station after rushing the boy to the hospital, Peter Kitheka, the school's member of committee said he was angered by the incidence stating that corporal punishment is illegal and having been abolished long time ago.
According to Kitheka after the incidence, the school boy requested to be taken to hospital saying he was feeling unwell.
"I am a committee member. I saw the boy just like mine and decided to take him to the hospital after seeing the injuries on his back," he said.
Parents of the school and area residents are now calling for strict measures to be taken against the head teacher to serve as an example to teachers who still punish pupils thoroughly.
"The boy had only made a slight mistake which required only a warning there was no need to beat him like a thief for such a small mistake," said one of the residents Susan Mbula.
Cases of teachers administering inhuman punishment to learners in schools in the country have been of great concern and it was banned in public schools in 2001 after public outrage.
According to TSC Secretary, Nancy Macharia, many cases of students being killed or maimed by teachers are alarming and punitive action should be taken against them to tame this practice.
Ms Macharia had earlier on urged teachers to guarantee students and their parents safety whenever they are on their hands.
"Teachers are tasked to protect children from abuse, neglect, harmful cultural practices, all forms of violence, discrimination, inhuman treatment, corporal punishment and exposure to exploitative labor," she said.