The former Deputy Governor for Nairobi, Jonathan Mueke says that Kalonzo Musyoka has lost the power he once had in the Ukambani region, which is currently estimated to have about 2 million votes.
Jonathan Mueke, who eyes Kitui's top seat on a bid to replace governor Ngilu claims that DP William Ruto owns Ukambani.
Mueke, one of Ruto's point men in Ukambani one of the point men in Ukambani, claims that the DP has succeeded in wooing the region and is now the man to beat there.
The former DG said that the popular notion that Kalonzo is in charge of the region is a fallacy. According to Mueke, Kalonzo is hardly on the ground, even during this critical moment when he seeks to become the 5th president of the nation.
"He (Kalonzo) is in for a rude awakening this time round. We are delivering for the Deputy President. He may not have noticed because he's not on the ground," Mueke said.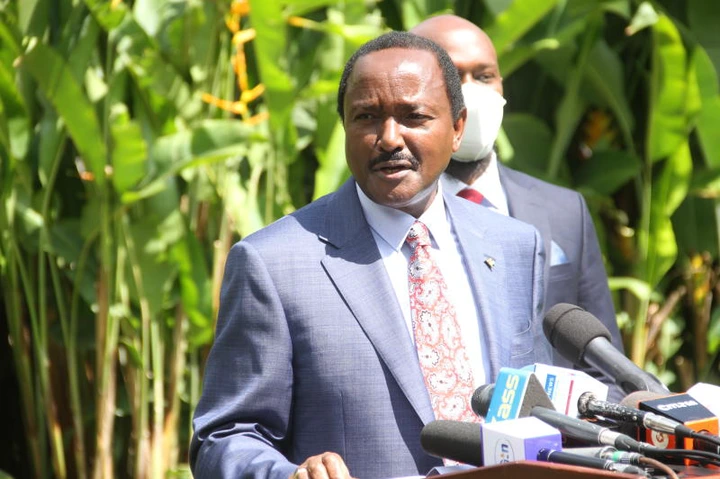 Jonathan Mueke has been transversing Kitui county in a bid to floor incumbent Kitui Governor, Charity Ngilu.
Mueke, who is so far the youngest aspirant has been telling locals that after devolution kicked off, they elected a mzee followed by Mama.
"Is there any problem now if you taste a youth?" poses the aspirant.In other words, he asks amid ululations from women,
Mueke has been working alongside former Machakos Senator Johnson Muthama, Nimrod Mbai of Kitui East, Vincent Munyaka (Machakos Town) and Vincent Musyoka (Mwala) to deliver Ukambani to Ruto.
Also Read: Mueke's slogan that has left women salivating for his leadership
Kalonzo has since made it clear that he will not support Ruto, saying that he is actually planning to stop him, with his allies on Wednesday announcing the same against ODM leader Raila Odinga, the other big presidential hopeful for 2022.
This is even as analysts point out that these two leaders badly need Kalonzo's support, this being why they never attack him for long.
"Even if people fight him and he fights others, they seem to end their fights quickly," political analyst Ishmael Nyaribo says.